Whenever Nick makes our Italian Chicken recipe, he almost always makes extra so we can make our Creamy Italian Chicken Pasta. It is absolutely amazing! We love to make this on Friday nights, and we usually have enough leftovers for several meals.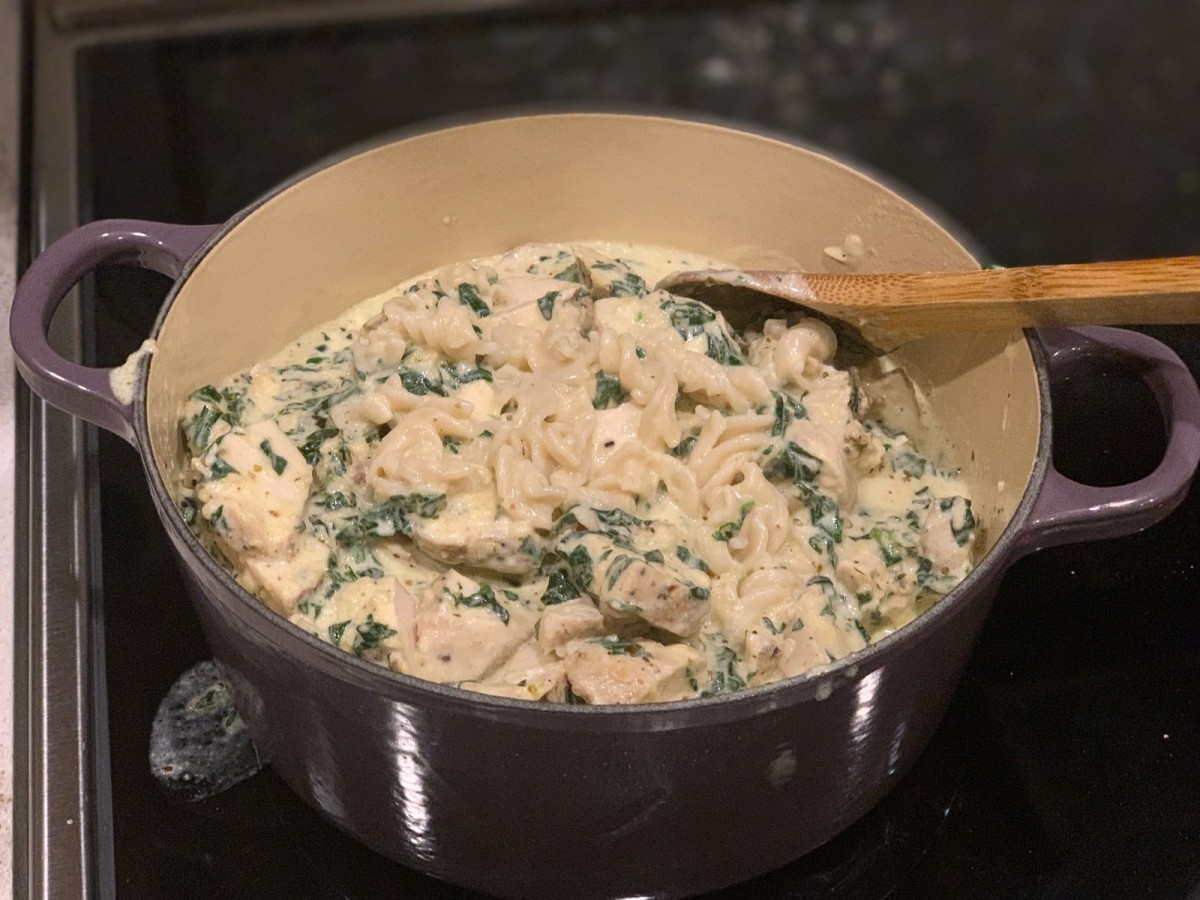 2 Tbsp Olive Oil
3 cups Fresh Spinach, chopped
4 garlic cloves, minced
Italian Seasoning
2 cups of homemade chicken bone broth or Imagine Organic Chicken Bone Broth
2 cups heavy whipping cream
4 oz shredded parmesan cheese
2-3 Tbsp Bob's Red Mill Brown Rice Flour
1 bag Tinkyada Brown Rice Pasta (we prefer the spiral pasta)
Optional
1 8oz pack of Nitrate free bacon, cooked crispy
1 8-10oz bag of peas, cooked
Crushed Red Pepper
Black Pepper
Green Beans in place of pasta for Low Carb version
Begin by putting a large pot (we use our Le Creuset 3.5qt Round Dutch Oven) of water on to boil for the pasta, and once boiling add the pasta and set your timer to 12 minutes.
While the pasta is cooking, continue by heating a large skillet (I like to use our Le Creuset Braiser for the extra depth) on medium heat. Add olive oil to the frying pan until hot, then add the minced garlic until slightly browned. Add the chopped spinach, season with around 1 tsp of Italian seasoning, and saute with the garlic for around 1 minute.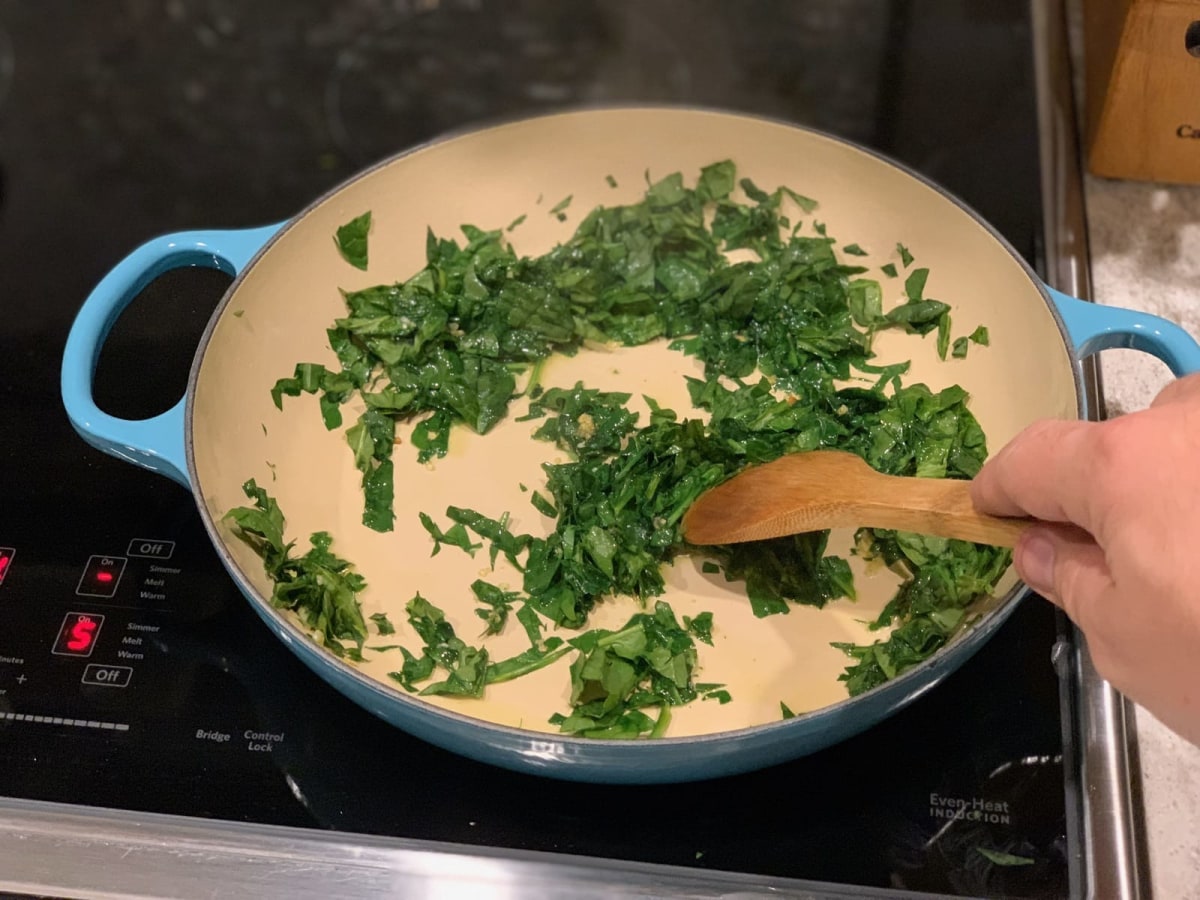 Next, add the bone broth and whipping cream, reducing the temperature to medium-low. Let simmer until the liquid begins to steam, stirring occasionally. While the sauce is heating, cut 2-3 of the pre-cooked Italian chicken breasts into small chunks and set aside.
Slowly add the parmesan cheese a couple of tablespoons at a time and stir until melted before adding more. Next, add the rice flour and continue stirring until sauce begins to thicken. Add the chicken, reduce the temperature to low and let simmer. While sauce is simmering, the pasta should be about done at this point. When the timer goes off, drain the water from the pasta pan. Pour the sauce and chicken mixture from the skillet in with the pasta and stir until the pasta is evenly coated.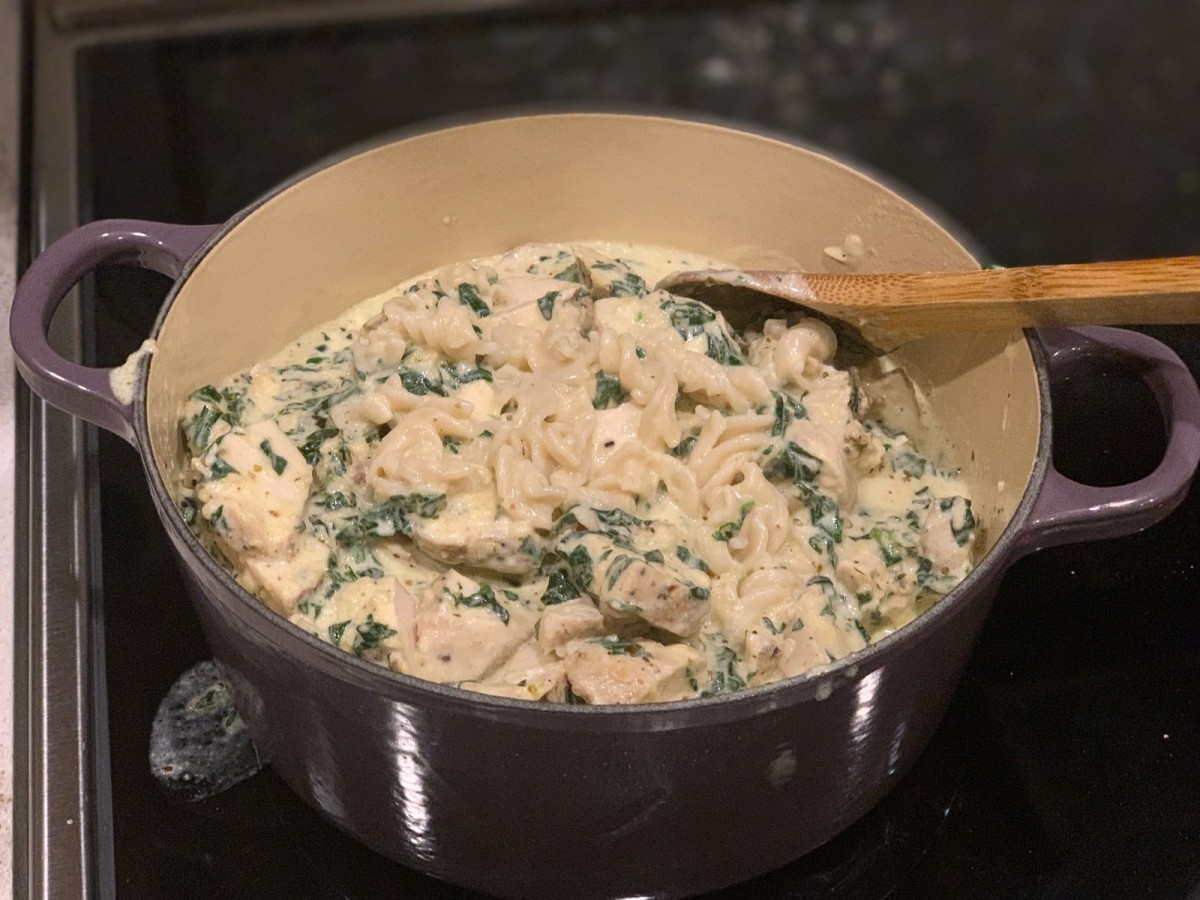 At this point, I like to add the crumbled crispy bacon and cooked peas, and Nick likes to add the crushed red pepper and black pepper to taste to add a bit of extra heat to his dish.
* For a Low Carb version, Poor the chicken sauce over pre-cooked green beans before adding the rest of the sauce to the pasta.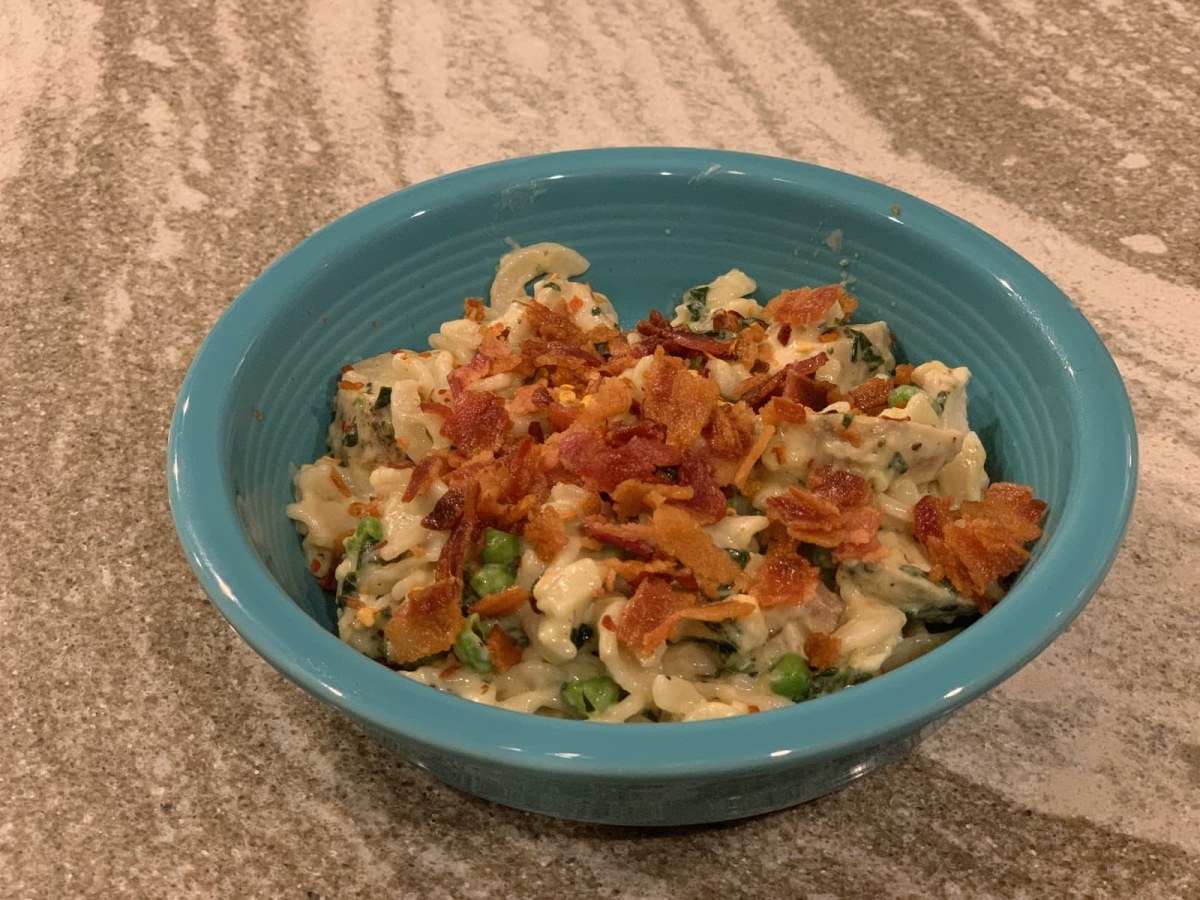 We keep the leftovers in one of these Rubbermaid containers. It usually gives us 4-6 more servings, and it lasts in these containers in the fridge for up to 1 week.