In this post, I include directions for both the regular and Gluten-Free Resurrection rolls that I make with my kids each Easter. Making Resurrection Rolls is a tradition I have done with my kids since they were very small. I love hands-on learning and especially helping my kids understand Bible stories or why we celebrate certain holidays better. This is a simple recipe that will help to allow even young children to be able to take part in a side for Easter dinner, or as we do, enjoy these for Easter morning. These yummy rolls will please Easter guests of all ages.
If you haven't heard of Resurrection Rolls before, they are a simple and yummy object lesson to help teach kids part of the Easter Story. The marshmallow which represents Jesus' body gets rolled into butter, then spices, and then wrapped in a roll, to help them understand how Jesus' body was anointed with oils and spices and then clothes to be prepared for burial. When you put the roll into the oven, as it cooks the marshmallow melts and disappears! This is symbolic of Jesus rising from the dead, which is the reason we celebrate Easter. When his friends came and saw the stone rolled away from his grave it was empty! Jesus Christ overcame sin and death, and the most awesome part about Easter is we serve a risen Savior! If you want to read this section of the Easter story from the Bible, I would recommend reading Luke 23:50-56 and 24:1-9 with your kids before you make these yummy Resurrection Rolls. If you have young children you might consider reading from an Easter Storybook like this one.
I will post the recipes below for the regular and the gluten-free version of these rolls, but first I'll list the ingredients you will need for these simple Resurrection Rolls this Easter. We prepared each of these versions separately, but only the rolls are different. We are always careful to wash our hands and surfaces in between and use different pans and utensils to be sure we don't contaminate anything with gluten for my son who is gluten-free. If you are making both versions for your Easter celebration, I would recommend doing the Gluten-free version first.
Resurrection Roll Ingredients:
1 can of Pillsbury Crescent Rolls for the regular rolls OR
1 bag of Udi's Gluten-Free French rolls for the Gluten-free version
1 bag of Regular Marshmallows
1/4 cup of butter or dairy-free alternative
1/4 cup of white sugar
1 TBSP of cinnamon
A couple of bowls to put the Marshmallows, melted butter, sugar, and cinnamon in.
parchment paper or be sure to grease your pan as the cooked marshmallow is very sticky
Resurrection Rolls
Having kids help make these delicious Resurrection Rolls is a great way to provide a hands on Easter lesson while you prepare your Easter meal.
Equipment
A non-stick baking pan

3 small bowls

A small spoon

Parchment Paper
Ingredients
1

tube

Pillsbury Crescent Rolls

1/4

cup

White Sugar

1/4

cup

melted butter or butter substitute

1

Tbsp

Ground cinnamon

8

Large

Marshmallows
Instructions
Place parchment paper onto baking pan, or grease pan well if you don't have Parchment Paper

Pop open the can of Pillsbury Crescent Rolls

Mix Cinnamon and White sugar together

Roll out and separate the triangular shapes of the dough

Dip 1 Large Marshmallow into melted butter

Use a spoon to take the Marshmallow out of the butter and dip and roll into the Cinnamon and sugar mixture.

Next, place the Cinnamon and sugar coated Marshmallow onto the wide side of the separated Crescent roll.

Carefully start to roll the pastry dough around the Marshmallow, being sure to pinch together the extra dough at each side of the roll. When the Marshmallow melts, it will ooze out of roll onto the pan if the ends aren't pinched shut.

If you have a little extra butter and cinnamon sugar mixture, you can brush some butter on top of the Crescent Rolls and sprinkle a pinch of cinnamon sugar mixture on top of each roll.

Once all eight rolls are ready and lined up on the baking pan, place the baking pan into the preheated oven.

Bake for about 9 minutes or as directed on the Crescent Roll package. Let cool before eating.
Notes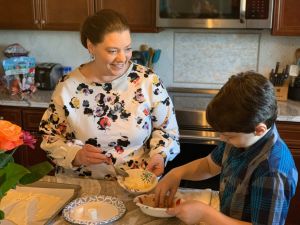 The Gluten-Free Version of Resurrection Rolls is pretty similar only instead of Crescent Rolls I used Udi's GF French Rolls which can be found in the Freezer section of the Grocery Store.
Gluten Free Resurrection Rolls
This Gluten Free version uses Udi's French Rolls. The amount of ingredients you need may differ depending on how many you make at a time. I sometimes make 1 at a time. These do dry out quickly, so I would advise you to bake them right before eating.
Ingredients
1

pkg

Udi's Gluten Free French rolls

1

bag

Large Marshmallows

1/4

cup

white sugar

1

tbsp

cinnamon

1/4

cup

butter
Instructions
Preheat oven to 400 or as directed on the package

Grease baking pan or place parchment paper on pan

Combine cinnamon and sugar

Cut a line into the French rolls using a serrated knife, but be careful not to cut all the way through.

Cut Large Marshmallows in half

Dip each Marshmallow half into melted butter, and then roll into cinnamon and sugar mixture

Place Marshmallow into each cut roll

Place on baking pan, and bake for 5-10 minutes as directed.

Carefully remove pan from oven and allow to cool before eating.

These rolls will harden as they cool. They are best enjoyed fresh the same day.
Baking these yummy rolls with your kids is a great way to start off Easter morning. We like to read the Easter Story together as a family, and I like to put some special Easter Books like the ones below into my children's Easter basket to help them remember why we celebrate Easter. What are your Easter Traditions? Have you ever made Resurrection Rolls before?
We love the Berenstain Bears Books. They have several Easter Story Books that are great for kids! Amon's Adventure is a great Easter Story for kids who are a little older. It's a view of how the Easter Story might have played out in the life of a boy who was living at the time of Jesus. My boys loved the Christmas Story versions of these books, and we loved reading them together as a family! We also love to put these chocolates from Madeline that are safe for my kids' allergies in their Easter Eggs or baskets.